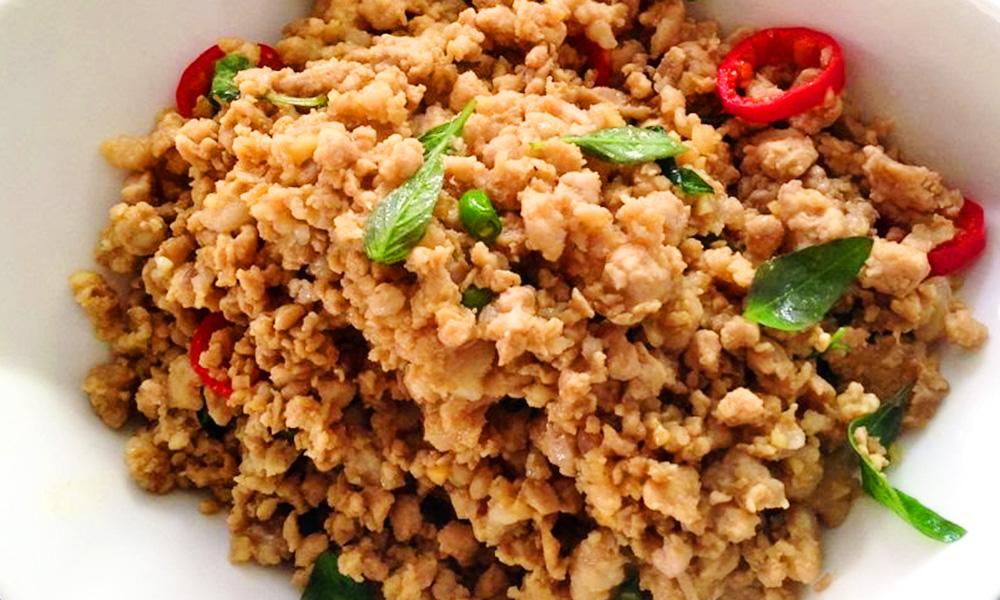 PREP: 5 MIN • COOK: 15 MIN • READY: 20 MIN • YIELD: 6 SERVINGS
INGREDIENTS:
2 tbsp vegetable oil
6 cloves garlic, minced (2 tbsp)
5 Asian shallots or ½ small onion , cut into thin slices (⅓ cup)
1½ pounds ground pork
6 red Thai chiles , cut into rounds
2 tbsp oyster sauce
2 tbsp fish sauce
1 tsp soy sauce
1 tsp brown sugar
1½ cups packed fresh holy basil or Thai basil leaves
pinch of freshly ground black pepper
DIRECTIONS:
Preheat a large wok or skillet over high heat for 1 minute. Swirl in the oil and heat until it becomes runny and starts to shimmer. Reduce the heat to medium.
Add the garlic and shallots and cook until the garlic is light golden and fragrant, 30 to 60 seconds.
Raise the heat to high and stir in the pork, breaking up clumps with the edge of your spatula. Stir and cook until the meat has just lost its blush, 3 to 5 minutes.
Reduce the heat to medium and throw in the chiles.
Add the oyster sauce, fish sauce, soy sauce, and sugar and stir to coat the meat evenly.
Stir in the basil and cook until the basil is wilted and the pork is cooked through, another 2 seconds to 3 minutes.
Transfer to a serving dish and sprinkle with pepper.
Serve hot with freshly steamed rice.